Posts Tagged 'germania'
I'm sure if you're reading my blog you'll already be familiar with Riches' work, in the form of his late 2nd century 'Empire' series. It came as something of a surprise to me last year to learn that while he is still continuing that series, Riches had sidestepped into a slightly earlier era with a trilogy project based on the Batavian Revolt.
For the record, I'm a huge fan of Riches' Empire series, which has everything I look for in rollicking historical mayhem. But Betrayal is a different beast entirely. It feels considerably more grown-up than the Empire series (which sounds like an insult to Empire, but is not meant as such.) There is just something altogether more serious, thoughtful and… well, grown up… about this series. There's no other way to put it.
Set during the Year of the Four Emperors, despite my love of Riches' work, I approached Betrayal nervously. It is an era that has already been plumbed thoroughly by a number of very good writers, and the whole subject has become a little bit stale for me recently, the last good treatment I read being Doug Jackson's. I needn't have been concerned. Riches has done himself proud by looking at this oft-viewed piece of history from a new angle and a new point of view, which is impressive.
In fact, the general direction of the book reminded me of Ben Kane's seemingly preferred angle, taking on a critical event in Roman history from a non-Roman point of view. In this case, it is largely told from the point of view of Civilis, a Batavian officer, with additional angles provided by a number of centurions on different sides of the conflict. And for anyone not familiar with the Year of the Four Emperors, there are most definitely more than two sides to look at.
Initially, I was a little perturbed by the number of angles and viewpoints, to be honest. Be aware that there are a lot of characters and units to familiarise yourself with, and that can require a lot of memory and concentration. But the same could be said with his Empire series, which involves a good number of important supporting characters, and yet that did not take me long to get the hang of. The same is the case here. It did not take too long to start grasping who was who and what was going on.
This is not a straightforward military romp. It is not a 'swords and sandals adventure'. This is a deeply complex novel and, while it revolves around military units, the first book revolves more around the political machinations of powerful men, tribal politics and the strengths and failings of a number of imperial personas. In fact, battle scenes are rare for a Riches novel, with good in-your-face combat early and late in the story, sandwiching a knotty plot that is treated with respect and intelligence.
And the win for me? It gave me a new respect for the Batavians and their place in Roman history. Made me appreciate and consider the part they played in the early empire and the individuality of a people I had always rather lumped in as 'one of those tribes.'
This is a superb book, and the start of what promises to be a cracking trilogy, given how this builds, and how it ends. The book is out on March 9th, and I suggest you pre-order it now or set a reminder to buy it in a fortnight!
It's been a year or two since I last journeyed with Tullus and his companions in Eagles At War. And in some way, I feel that has improved my approach to the book rather than having launched into it on its release, because as this story opens 5 years have passed since the dreadful massacre in the Teutoborg forest where 3 legions were obliterated, a few straggling survivors limping back beaten and dejected to Roman lands.
Tullus is determined to revenge himself in Arminius and the Germans who destroyed his legion and handed the survivors dishonour by taking their eagle. Back in Rome where the new emperor Tiberius is being hailed, Tullus learns that the nobke general Germanicus is planning a campaign to chastise the Germans and recover the eagles. Sidestepping the rules, he signs on with this new army and makes his way back to Germania to have his revenge.
But Arminius has not been idle, and is stirring up trouble again, and so the two peoples – age old enemies – are lining up for a set-to of immense proportions. In this novel we are treated to our familiar heroes of both sides from book 1 facing endless trouble (rebellious legions, uncooperative tribes, burned-earth tactics, immense brutality and more.) Oh and my favourite scene rescuing endangered Germanic family members before Germanicus' army rolls over them.
As always with Kane's books, the characters are well-drawn, the scene perfectly set, the descriptive deep and powerful, the plot pacy and strong, the writing effusive and consuming. But the thing at which Kane excels for me, and which makes his books some of the darker and more powerful in the genre, is the level of reality the reader is made to feel. Every scene is so intricately woven with the yarns of human fact, deep emotion, historical detail and raw strength that Kane's books can leave you needing to rest and recover before pressing on. His is a rare talent in provoking such a response, and it can often feel that you are experiencing the story far more than any other way other than actually being there.
Hunting the Eagles is one of Kane's finest tales and builds on the first in the series, covering slightly less familiar events than that first military disaster. I shall be fascinated to see what he does with the last book of the trilogy.
Buy it. Read it. Experience it.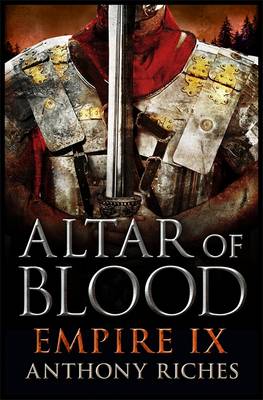 One of the best ways, in my experience, to guage the quality of fiction is how easy it is to read. Yes, there is some crap out there that is an easy read, and yes, there are great reads out there that require concentration and work. But more often than not a book that just grabs your attention and drags you along from beginning to end is a success. I find Anthony Riches' books to be like that. They hook you in the first few pages, relieve you of sleep, food and work and occupy your waking moments until you reach the end and close the book with a smile. Case in point: Empire IX – Altar of Blood. Started it one morning. Finished it the next afternoon. Couldn't stop reading it.
Part of it now has become the familiarity with the characters, the setting and the writing style. By the ninth book in a series, readers know they're going to get what they want. They're on a safe bet. But kudos is due any author who makes it to book 9 in a series and isn't simply rehashing old stuff. I pick up Riches' books and I know I'm in for a treat, though. And even this far into a series, I know I'm in for new twists and fresh discoveries.
Riches, you see, is unpredictable. He cannot be counted on to give us happily ever after, to give us tested formula for all my comments about familiarity. Riches might kill off someone important any moment. He will take us to new places and may even turn the tables so that previous friends are enemies and previous enemies friends. Such keeps things fresh.
With the ninth in the empire series, there is a new feel to the start. Altar of Blood begins with viciousness and eye-watering brutality, and then settles down into an opening tale of tragedy. Then gradually, as our hero is put through the emotional mill yet again, the true tale of the book comes out. We are re-introduced not only to the usual characters but also to the wicked emperor and the snake Cleander. And then our heroes are sent off on a dreadfully dangerous secret mission into barbarian lands, following a brief 'Dirty dozen' recruitment session. Interestingly, where the previous books have focused primarily on our friend Corvus/Aquila with interludes carried by his friends, this book is almost entirely narrated around characters that were formerly supporting cast, with Aquila only occasionally coming to the fore.
There follows a tale of subterfuge and double dealing, insurgency and counter insurgency, chases, battles in deep forest and swamp, catharsis and healing, treachery and betrayal and heroism in unexpected places. The tale owes something in form to 'Heart of Darkness' or 'Apocalypse Now', but one thing is certain: with Riches' own blend of adventure, action, violence, harsh language and reality born of understanding the military mind, he is becoming something of a Tarantino of historical fiction. Fresh, unpredictable, fascinating and exciting.
And Husam! Oh, Husam, you are sooooo cool.
Altar of Blood is out in paperback today. Have you read the series? No. Then get started, as you've a treat ahead of you. If you have, then rest assured, volume nine is far from disappointing. Go buy it now.