Posts Tagged 'Tibet'
You might remember that over the past year or so I've reviewed two motorcycle travelogues, on DVD and in book form, that were made by Ryan Pyle and his brother Colin. In addition to those great bike treks around China and India, Ryan Pyle has branched out and taken us on a trek on foot around some of the most incredible locations on Earth. Extreme Treks: Sacred Mountains of China is available on Blu-Ray and with an accompanying book. Let me tell you about them.
It's hard not to draw a comparison with the brothers' motorcycle journeys, especially given that the first one took in part of the region where these walks take place. I shall try and avoid comparisons as much as possible, but two things leap out and will recur at some point: One is the superior feel of this DVD, and the other is the increased depth of immersion in the landscape.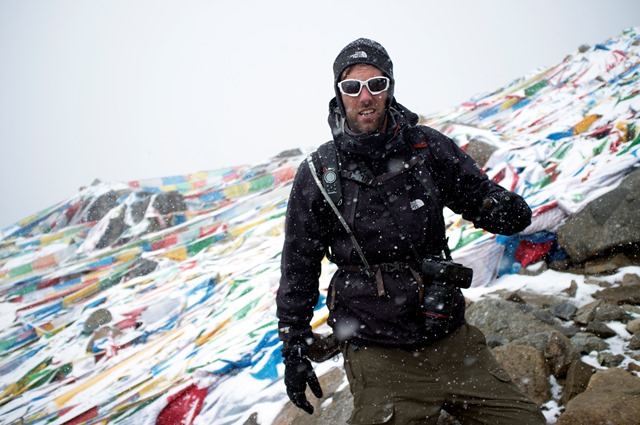 The DVD/Blu-Ray takes us on four treks, each of which is a pilgrimage in the Tibetan culture, circumperambulating four great mountains on the Tibetan plateau. I won't go into the details of each one, but for reference, the four mountains are Minya Konka, Mount Kailash, Amne Machin & Kawa Karpo. No, I'd not heard of them before either. Perhaps I should have since I lean heavily towards Buddhism and am fascinated by the beliefs. In each case, Ryan Pyle dons his impressive walking kit and braves altitude sickness, exhaustion, illness, dangers in numerous forms, endless discomfort and the most extreme and sudden changes of weather to hike around one mountain, the journey varying from perhaps five days to twelve (if memory serves me). We are treated to such sights as yak herding, bathing in ice cold water, trying to put up a tent in a full-force mountain gale, other pilgrims on the routes kneeling in devotion on stony mountain paths and often Yak Butter Tea.
The journeys undertaken in this DVD were not done alone. In their motorcycle adventures, while the brothers had a support van with a camera, most of the actual filming was done by the two journeyers on bike cams and hand-held cameras, and the presence of the support van was barely noticable. Here, Ryan has a full support team of local guides, cooks, sherpas, and his loyal cameraman – who I felt for, as he performed the same trek but filming it at the same time. And the result of the increased team support means that the actual technical side of the travelogue in terms of filming, sound etc, is vastly superior. In fact, I would say the camerawork in particular is excellent.
What you are left with, then, is a very well filmed and well-produced journey, which is made worth filming by the enthusiastic, immersive and open attitude of Pyle himself, who is clearly in love with China and the Tibetan world, and equally clearly wants to make everyone else fall in love with it too. His enthusiasm and willingness to completely lose himself in this world is catching, and because of that, everything he introduces us to is that little bit more fascinating and attractive.
In summation, the video series is stunning, well-produced and enjoyable. The scenery is probably the biggest star. I'm not a lover of mountains, myself. I like hills and grassland and sea coves and so on. But it's really hard not to be impressed and stunned by the beauty of these places, which have been so lovingly and clearly captured on film. I recently started watching Levison Wood's Himalaya walk, having thoroughly enjoyed his Nile walk. But sadly, having watched Ryan Pyle's treks, I found Wood's journey to feel tame and uninteresting by comparison. Perhaps because he doesn't display the same connection to his environment?
Then there is the book that accompanies the series. This is a worthwhile purchase even if you've watched the series, for it's not a text repeat of what you've already seen. From the start of the book (and I read it after I watched the Blu-ray) it was clear there was more to the book, as it begins by going into the whole background of Pyle's life in China and the reason for the Treks in the first place. And throughout, the book goes into a level of detail that the series clearly could not due to constraints of time and flow. The book draws on more sources, details more than you see on screen and, of course, tells us more of what the explorer was feeling and experiencing as he trekked. It works nicely as a counterpoint to the series.
If you like your travelogues, this comes highly recommended. I will watch it more than once, that's for sure. And reading the book has nudged me to want to be that little bit more adventurous in our own outings, even if at a rather tamer level. I am unlikely to come face to face with an angry yak in my searches for Roman ruins in deepest Romania, but the need for adventure is infectious. And if the pics in this review aren't enough to persuade you to watch it, I don't know what will. 🙂
Buy the Blu-ray here, and the book here on Amazon UK (or look it up on any other site of your choice).
Very unusual subject matter for me, but everyone needs a little change now and then, eh? Variety, as they say, is the spice of life.
I recently had the opportunity of a review copy of this book (and the associated DVD) and rearranged my reading schedule to fit it in. Nearly everything I read is historical, where it be fiction or non-fiction, but my love of travel and adventure is strong too, and I am a sucker for travelogues on TV, so I jumped at this chance.
Amazingly, this tremendous journey, painstakingly documented in both text and film, was carried out by the two stars from their own funds. They did not receive the financial and logistical backing of the BBC or Nat Geo, or any of the great media groups that usually produce such series. They did not get given special treatment from the authorities as media stars. They were not donated bikes. They used up their savings, sold a house, quit jobs and did it themselves. Did what? you ask… Oh yeah. Here's what they did:
Ryan Pyle is a freelance photographer from Canada who's lived in Shanghai for a decade now. He loves China. He loves the culture and the people and has been documenting it with his camera now for years. He's also an enthusiastic, if relatively amateur, motorcyclist. His brother Colin owned a company back in Canada, but was tiring of the life and sought adventure – and he's also a biker! So from Ryan's enthusiasm and Colin's need for change was born the idea of the Middle Kingdom Ride. The Middle Kingdom, you see, is a phrase derived from China's name for itself, based on the principle that China was at the centre of its world. Ryan had this crazy idea that the two brothers could leave behind work and ordinary life – including, most wrenchingly, their wives – and take two bikes and a small support crew and ride around the circumference of China. China hold the longest unbroken border that can be driven or ridden, and to do so would not only be fascinating and an amazing achievement, but it would also be a world record.
(The route around China for the Middle Kingdom ride)
Ryan and Colin sought financial and logistical support, but the deals they made fell through, leaving them alone. Not to be thwarted, the pair decided that they would do what they intended, with or without support. And so they found a filmmaker who was enthusiastic over the idea, who would travel behind the bikes in an SUV. And through careful planning around the route, arranged a series of local guides from each region who would join the support vehicle for a section of the trip. That was it. Two brothers on bikes, and two men in an SUV behind them.
So that's the background. As for the ride itself? Well suffice it to say that, despite having recently watched Sue Perkins' Mekong journey and Levison Wood's Walking the Nile, this journey was at least up there with the others, and was actually better than them in some ways. The journey has everything, because the brothers are not just riding bikes around the country, they are also immersing themselves in the culture at every opportunity. Thus we are treated to seeing the more draconian side of the Chinese administration, the life of Mongolian peasants from their own level, oppressed-yet-rebellious Tibet, tourist-oriented river journeys and everything in between. One thing that struck me throughout was how friendly and helpful and genuinely interested almost everyone they met seemed to be.
Then there were the hiccups. From broken bikes to more broken bikes, to two broken bikes at the same time, to almost uncrossable terrain, to impassable landslides, to forbidden expressways with angry policemen, to whole forbidden regions, the world seems to batter the pair on a regular basis. And yet, the brothers continually push down the disappointments and fears and overcome to push on. Even with the requisite number of falls – some of them quite hard, too. Anyone who's ridden a bike will probably tell you that a fall is inevitable at some point. I myself have come off one a few times, though never badly. All I would say it that, given the terrain across which these two rode, it is just astounding that they didn't fall more often.
I won't delve any deeper into the content of the journey, as that's for the reader/watcher to discover for themselves.
I read the book and then watched the DVD, and if you feel like doing both, that is most definitely the order in which to do it. The DVD will allow you to picture what you have already read, and the – by necessity – sparser detail in the DVD is best approached by having read the book and being able to fill in the blanks as it were
The book is fascinating. It is well written and well edited and proofed. The book follows the journey from its conception to its conclusion, divided up into chapters at the appropriate spots. Each chapter is lovingly told by Ryan in excellent detail, aided I'm sure by the fact that both brothers kept a video diary at the end of each day's ride, and by the video footage that had been taken. At no point does the read become dull or repetitive, which I consider an achievement when you're writing about 60 days and 18,000 km of motorcycle journey. But there is no lag in the tale. At the end of each chapter, Colin adds his impression of the same events, which sometimes throws new light on things and allows for an interesting counterpoint to the main text. If I had one criticism of the book it was that the first half of the journey takes up nearly 3/4 of the book, and so it feels like less justice has been done to the second half of the ride, but I suspect that most of the reason for that is that the latter leg of the journey was faster, on more major roads and with less trouble. Better not to labour whole sections of 'we rode and nothing happened' I suppose. The book is an excellent record of the journey, but also forms an amazing glimpse into the lives, minds and emotions of both brothers. All in all, the book was an excellent read, and I found myself glued to it at times.
The DVD matches up in its production to any of the travelogues you will catch on TV. Using footage from the support crew as well as from the helmet cameras of both riders and their video diaries at the days' end, the film-maker has done an excellent job of production. It is a thoroughly professional piece. Split into six episodes it allows you to in some way, join in with the ride, and experience some of what the brothers felt and saw. I have two minor criticisms of the DVD. One was the length of the introduction and 'previously on' at the start of each episode, which had to be sat through to get to the film (though this is a common problem I've found with travelogues and in no way unique to this DVD!) And the other is that in places the sound is not so good. Of course, that is occasioned by the fact that this was a proper adventure with only two men supporting, not a whole film crew with a mic boom and so on. So the sound you hear on the film is not the clean sound of the large-scale documentary film-maker, but the real sound of the journey. And while that means that sometime you might have to listen hard to hear over the truckstop noises, it does mean that you are truly immersed in the journey. So I suppose in retrospect they're not so much criticisms, as comments. The DVD does not have the level of detail that the book has, of course, so as I suggested earlier, if you get both book and DVD, read the book first. However, the DVD is well enough produced and written that if you don't read the book, you won't know you're missing the minutiae, and the DVD will still be a treat to watch. Really, the scenery alone makes it worthwhile, to be honest.
So there you go: two brothers, two motorcycles, 18,000 kilometers. One of the most fascinating, varied, and well-documented journeys you will get to read or see. And now, it seems, the brothers have gone on to ride around the edge of India next, so I bet you can guess what I'm getting and shuffling into the reading pile now?
Get the book here and the DVD here in the UK, or here (DVD) and here (book) elsewhere. And enjoy…